This is a "Wizard" designed to create individual student logins on a Novell Netware server - either v4.11 or v6. This wizard is a free download for all NSW Government Schools.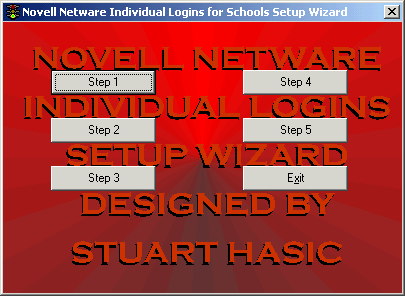 Here's what this five-step (all-in-one) wizard does:
Using an OASIS Export Report (like in EduWeb), it extracts all your students to a disk file (NSW Government Schools only)
A utility is then run to ask you a few questions:

The Organization name set on your server
The server name
The desired login name format: hasicstuart, stuarthasic or hasics
Whether you want to apply Space Restrictions to the students and what size restriction you'd like to apply
What scholastic years you'd like to have individual logins for (you can choose any or all)
Whether you want unique passwords applied for each student in the form abc123 (easy to remember licence plate style) or a common password you can set.
Once you've answered these questions, the wizard does the rest for you -
It then creates the user accounts for you with each user placed in their appropriate container named after the year each will leave the school. It also sets the desired password type
It creates all of the home folders with applicable rights for every user, and home folders can use long names (greater than 8 characters), unlike normal UIMPORT options using a user template
Utilises user templates that you specify beforehand, and places student accounts in groups and defines access rights to other parts of the server
Applies the specified space restrictions on each user's account
It provides you with an Excel spreadsheet that contains each new user's username, password and container details.
That's it. From start to finish, our testing has shown you can create 450 student accounts with home folders in about 6 minutes - including the export from OASIS. Try beat that any other way...
Then, after you've run the whole process for the first time and told it to create accounts for ALL students (whether you use them or not is up to you), you have a utility to maintain your accounts as enrolments change. At any time, you can export from OASIS (step 1) and re-run the same utility (which remembers the previous settings you used). It will create new accounts and home folders for student names from OASIS that don't already have one, optionally delete accounts for students that have left the school (i.e. no longer in OASIS) and not touch any existing students' accounts. An excellent feature which is obviously even quicker than the initial setup of users.
And a brand new utility has been added to the Novell Netware Logins Wizard that allows you to apply write (RWCEMF) rights to each student's new login account to their own EduWeb folder. In other words, now that your students have their own login name, they can also each have a totally secure EduWeb website that only they are able to modify. No more worrying whether some other student will vandalise their EduWeb pages. Full instructions for using the utility (screenshot below) are in the NWwizard.pdf file found in the Wizard download. It works with Netware 6 as well.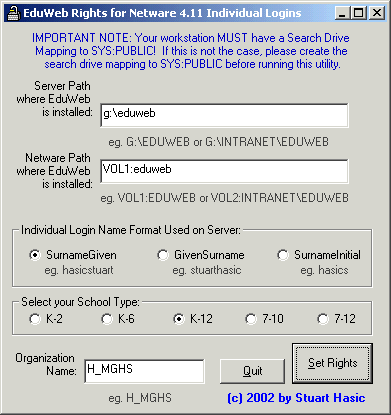 So, if you have a new Novell Netware server at your school, and have not yet setup individual logins for your students but would like to do so, this is the utility for you - the Novell Netware Individual Student Logins Wizard!
| | |
| --- | --- |
| (v1.21 - 827Kb) | Click the button at left to download the Novell Netware Individual Logins Wizard. When prompted, choose Save to Disk and select Desktop as the location. Then take a blank, formatted floppy disk and place it in drive A: and run the wizarddisk.exe file you just downloaded. Click Extract when prompted. The diskette will then contain a NWwizard.pdf file which contains all the instructions you need. Have fun! |
| | It is strongly recommended you also read through (or print) this section of the website to assist you with the process of creating individual logins for your students. NEW! |
| | This download should be applied to all your PCs after you have created individual student login accounts using the Wizard. This link will take you to the Mt Druitt District website. |
Any comments you may have about this Wizard and how you found using it would be most appreciated. Please forward them to stu_hasic@yahoo.com
(c) 2002-2004 by Stuart Hasic