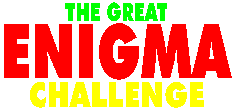 Stu's Double Jeopardy!
Play the TV Game Show of Jeopardy on your computer! A fantastic activity to play with your friends or for teachers to use with their students. Download and play it FREE!

Stu's Grand Final Sweepstakes!
Celebrate the football grand finals/SuperBowl in your office by running your own sweepstakes! Great prizemoney to be won, lots of fun! Download and play it for FREE!

BrainBashers
An exciting collection of puzzles for all puzzlaniacs.

World IQ Challenge Cup
Where the best of brains are recognised. You get to compete in about 100 different puzzles. Don't you miss it!

A Web 4 Puzzles
Solve puzzles, braintease others. Interesting selection of brainteasers: Lateral Thinking, Logic & Maths, Word, Visual, Chess and Difficult puzzles. Tons of Puzzle books, software, online games too.

Aha! Puzzles
On-line Lateral puzzles, books and games can be found at this great site by Lloyd King. Take a look!

FreeMIDI.COM
The source of all the great 'thinking music' at my site. A HUGE archive of MIDI files for personal use. Just browse throught the easy FTP listings for almost anything in great music!